Light, Compact and Powerful, Our Portable Outboards are Always Ready For Action.
The DF20A, 15A and 9.9B hold claim to being the world's first battery-less electronic fuel injection four-strokes in each of their power classes.
For more information regarding order inquiry please contact Suzuki Marine Philippines.
Features

Human Engineering Delivers User-Friendly Operation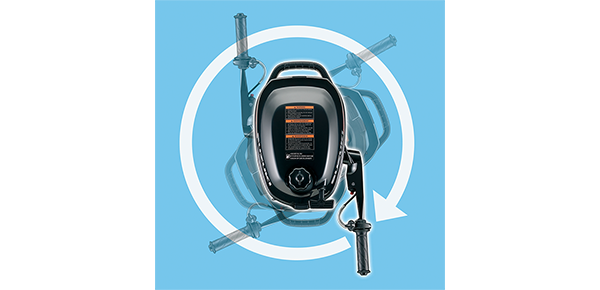 An outboard designed with user-friendly features is an outboard that lets you enjoy more of your time on the water. That's why the DF2.5 is equipped with a twist-grip throttle for easier operation from different sitting positions, and full-turn 360° steering, which is advantageous when maneuvering in tight places and also delivers superior thrust when backing.
Operation is quiet and smooth, and the engine is water-cooled for increased durability and dependability. And a large capacity integrated fuel tank holds one-liter of fuel, which provides an estimated operating time of almost an hour on a full tank.
Other features include steering and throttle tension adjustor systems, F-N shifting located on the starboard side just where you'd expect, and an oil level indicator conveniently located on the port side for easy oil checks.
More Convenient Features
Removed from the boat, the DF2.5 is balanced, lightweight, and easy to manage due to its large carrying handle. The integrated handle is located on the back of the engine cowling where it also assists when tilting the engine. And there's four-position tilting for matching the outboard with the individual boat and operating conditions.
Environmentally Friendly, Economical Operation
Suzuki's four-stroke technology squeezes more from every tank of fuel than a comparable two-stroke outboard. Four-stroke technology also delivers clean operation that allows the DF2.5 to gain CARB 3-Star Certification for Ultra Low Emissions by the California Air Resources Board.
Cutting Edge Technologies
Specifications
Model Specifications
Starting System
Electric,Manual
Recommended Transom Height (inches)
S: 381, L: 508, S: 381, L: 508
Weight (lbs)
S: 48, L: 49, S: 44, L: 45
Engine Type
OHC
Fuel Delivery System
Battery-Less Multi-Point Sequential Electronic Fuel Injection
No. Of Cylinders
2
Piston Displacement inches (cc)
327
Bore X Stroke Inches (mm)
60.4x57
Maximum Output HP
1.8 kW (2.5 PS)
Operating Range (RPM)
5,250–5,750rpm
Steering
Tiller
Oil Pan Capacity quarts (liter)
1.0
Fuel Tank Capacity (liter)
12
Ignition System
Digital CDI
Alternator
12V 12A, 12V 6A
Engine Mounting
Shear Mount
Trim Position
Manual Trim and Tilt
Gear Ratio
2.08:1
Gear Shift
F-N-R
Exhaust
Through Prop Hub Exhaust
Propeller Selection
7"-12"